Motorcycle Clubs Doing Good Across the Country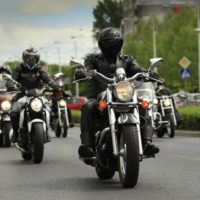 Motorcycle clubs are often portrayed as violent, lawbreaking groups that are dangers to the community. It is for this reason that members of motorcycle clubs are often targeted unfairly by law enforcement and subjected to violations of their rights under the First and Fourth Amendments of the Constitution, as I've discussed in past blog posts. However, there are countless motorcycle clubs in California and throughout the country who are doing great things for their cities. Read on to learn about the good deeds being done by clubs, near and far.
One particularly inspiring charitable project was taken on by the Rip City Riders, based in nearby Sonoma and Marin Counties. The club would regularly pass by a set of buildings that once functioned as a school house and chapel, built beginning in the 1870s. Sadly, the buildings had fallen into serious disrepair. Rather than letting these historical monuments be destroyed by neglect, the club purchased the land on which the historical buildings sat. The club's members restored the buildings themselves, and the schoolhouse now serves as the group's clubhouse. The Rip City Riders have previously supported a little league baseball team, the American Cancer Society, and numerous other charities, and have organized a toy drive this holiday season to bring joy to underprivileged children this holiday season.
There are countless stories of motorcycle clubs organizing their ranks and throwing financial support behind individuals or groups in need. The Clear Lake Road Riders, based in Lakeport, California, collects funds all year to provide scholarships to graduating high school seniors who plan to attend a local junior college. A club based in Kentucky known as the Special Forces Brotherhood Motorcycle Club raised over $4,000 to support Gold Star Families – those who have lost a loved one in the line of duty. Another Idaho-based club, the Brother Speed South Central Chapter, raised over $20,000 in a toy drive attended by bikers from Nevada, Utah, and California. Here in the Bay Area, groups like the Wolf Pack, the San Francisco MC and countless others help fight prostate cancer, raise awareness of mental health, and contribute to numerous charities. The next time you hear a disparaging remark about motorcycle clubs, be sure to mention the acts of service and charity performed by motorcycle clubs on a regular basis.
If you've been injured in a motorcycle accident, or had your rights as a biker violated by law enforcement, contact the seasoned and aggressive San Francisco motorcycle rights attorney William Weiss for a consultation, at 415-362-6765.