Determining an Illegal Task Force Traffic Stop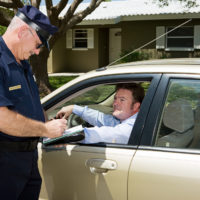 Ok, here we go. Latest rant. How long does it take a police officer to give someone a ticket for not stopping behind the white line. Also assume that the driver has no warrants, no unpaid tickets, no convictions, is not on probation or parole. Further assume the driver the officer gets the license runs it and the registration. Clean. It might take 15-20 minutes for the whole event. If you are a biker with a three piece patch however a stop like that might take two hours with 6 cops and include a non-consensual search of the biker's wallet, a non-consensual search of the saddle-bags and tons of questions about the biker's "gang" and meaning of his tattoos plus attempts to take photos of the biker's tattoos and face The U.S. Supreme Court. In Rodriquez v. United States the court said, "the scope of the detention must be carefully tailored to its underlying justification." Also in another case the Supremes said. "In determining the reasonable duration of a stop, it is appropriate to examine whether the police diligently pursued the investigation. The bottom line is the typical gang task force traffic stops where the above described conduct takes place is ILLEGAL!. If you have video cameras you should definitely video or even audio record the stop. This kind of stop could generate an internal affairs complaint or even a lawsuit depending on what happens on the stop.
Right now I have one matter where a person is fighting the ticket and we have subpoenaed the police video and audio of the stop. I am betting they will say they don't have it now etc. Whatever. You can fight back on this but you have to have a program and train your club what to do. The police train constantly on how to execute procedures in the field and so should your club.
Next-you'll like this I am sure: California's database of suspected gang members that is shared by police departments across the state may violate privacy rights by including people without proper justification. The state auditor released a report calling for stricter oversight. The Calgang database that is funded by the state department of justice tracks about 150,000 alleged gang members and associates, many of whom are African-American and Latino. According to the report the system, "does not ensure that user agencies collect and maintain criminal intelligence in a manner that preserves individuals' privacy rights."
Because of the lack of oversight various police entities entered groups into the database that did not meet the Calgang criteria for inclusion. The report found that at least 600 individuals in Calgang had purge dates-when they were to be removed-that extended beyond the five year limit.
The system is supposed to be used for an investigative tool and not to be used in court or for employment but at least four law enforcement agencies admitted that they used the database for employment or military related screenings. This is another area bikers must be aware of and ready to remedy by legal action if necessary. I'll write more about this soon.
If you need any legal advice or a consultation with our law firm, feel free to contact us through our contact form.