Watch Out for Motorcycle Defects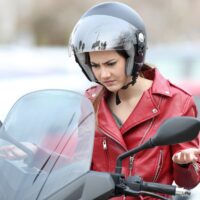 Motorcyclists face danger from more than just negligent drivers. When a motorcycle manufacturer puts a defective product into the market, it puts every biker at risk. We've talked before about class actions against certain motorcycle makers for selling allegedly defective bikes. If your bike is subject to a recall, it is important to take it in for repair or replacement as soon as possible to avoid a crash. Below, we discuss some of the defects to watch out for when purchasing and riding your motorcycle. Call our passionate and dedicated motorcycle accident attorney if you've been hurt in a motorcycle accident in the Bay Area.
Brake defects
In an earlier post, we discussed a class action lawsuit against Harley-Davidson based on alleged defects in the brake systems of a line of their bikes. The company issued a recall in early 2018, but the lawsuit alleges that they knew about the defect well before they released the recall. Bikes can have brake systems that are poorly manufactured or designed such that they lock up or fail at the worst times, or they can have systems designed for specific braking techniques that are not adequately explained or distinguished by the manufacturer.
Harley-Davidson priced its 2007, 2008, 2009 and 2010 Touring and CVO Touring model motorcycles significantly higher due to the inclusion of the ABS. Harley-Davidson instructs riders to use different braking techniques in emergency situations depending on whether the bike in question is equipped with ABS or not. In 2008, Harley-Davidson discovered that the normal motion of turning the front wheel back and forth would lead to breakage in the wires connecting the speed sensor to the engine control unit ("ECU"). If the wires connecting the speed sensor to the ECU are severed, the ABS would become nonfunctioning, and the emergency braking technique promoted by HD would put riders at serious risk of injury. However, despite knowing the grave complications that could arise from issues with the ABS, Harley-Davidson continued to sell the defective bikes to both private citizens and municipalities with motorcycle law enforcement squads through 2010. Harley-Davidson allegedly did not remedy the defective ABS wiring in its bikes until 2011.
Engine defects
The brake lawsuit was not the first class action against Harley-Davidson. A few years earlier, plaintiffs alleged that Harley-Davidson bikes equipped with a particular model of engine (the Twin Cam 103) contained a design defect that ran overly hot, posing a risk to any rider, creating a risk of severely burning riders while on a trip. Burning a motorcyclist during a trip could not only leave them with the pain and scarring from the burn itself, but it could also cause them to lose control if they are burned unexpectedly while traveling at high speeds.
Other bike manufacturers have put bikes on the market with engines that cool down or shut off in the middle of a trip, which can also lead to a severe accident. If you sense any issues with your motorcycle, or if you hear of an engine defect with your model of bike, get it checked out immediately.
Wheel and tire issues
Some of the most common bike defects involve the tires and wheels. Problems with the wheels can easily cause the entire bike to become unstable, making the rider lose control and collide with other drivers or objects. Additionally, when a tire is weak or unstable and susceptible to rupture, riders are at risk of a tire explosion in the middle of a ride.
Handlebar issues
Handlebars are more than an aesthetic choice. If they lock up unexpectedly, if they are loose, or if they are otherwise defective, a rider can lose control of a bike in the middle of a ride and end up in an accident.
If you've been injured while riding a motorcycle because of a bike defect or negligent driver, get help collecting the damages you are owed by contacting the effective and dedicated Bay Area motorcycle accident lawyer William E. Weiss for a free consultation at 415-362-6765.