How Does California's New Law on Exhaust Noise Violations Work?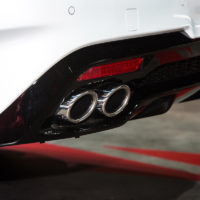 Last month, we discussed in a blog post that on January 1, 2019, a new law went into effect in California that gave law enforcement the right to issue bikers and other drivers a ticket for their "modified or excessively loud exhaust or muffler systems." Many motorcyclists have expressed concerns that this law may provide police with a legal means of targeting and interrogating riders. Learn more below about how the law could affect you, and contact a seasoned San Francisco motorcycle rights lawyer if you have any additional questions.
Changes to Existing Exhaust Law
Before the new law, known as AB 1824, entered into effect, California drivers of motor vehicles other than motorcycles were not permitted to have an exhaust system or modified muffler if the sound it made exceeded 95 decibels. However, if these drivers were pulled over for a violation of this law, they received what's known as a "fix-it ticket." This gave the driver the right to have the ticket rescinded if they had a compliant muffler installed to replace the excessively-loud muffler they had when they got the ticket. Now, the driver will simply receive a violation if the officer believes that the muffler or exhaust system isn't compliant with the law, with no right to fix it and return with a compliant vehicle.
Motorcycles are subject to different, more restrictive, limits on exhaust sounds. Any motorcycle driven in California and manufactured after 1985 may not emit a noise over 80 decibels. That said, bikers can still receive a violation under this law for violating noise restrictions, rather than a fix-it ticket.
How Can Riders Avoid a Ticket?
Manufacturers of motorcycle and after-market exhaust systems built after 2013 are required to have a certification label from the US Environmental Protection Agency establishing that it is compliant with the law. If officers attempt to issue a ticket to a rider who is using a certified-compliant exhaust system, they may be able to avoid getting the ticket by showing this certification sticker to the officer. Riders of older bikes may have more difficulty proving that their bike is in compliance with the law. It isn't clear how law enforcement tests the volume of a bike to learn whether it's compliant with the law, and differing testing methods can produce very different decibel readings. It is unclear whether this law will be used as another way for police officers to target MC members or other bikers, but law enforcement remain obligated not to unfairly target any one class of driver, and they can be held liable when they do.
If you believe you've been the target of police harassment or unfair treatment as a California motorcycle rider, contact the aggressive and dedicated Bay Area biker rights lawyer William E. Weiss for a free consultation at 415-362-6765.