When Do You Need a Motorcycle Accident Attorney?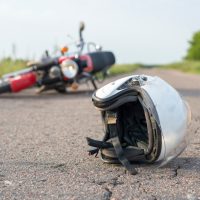 If you've been hurt in a motorcycle accident, you need to make a few decisions quickly. Do you report the accident to the insurance company? Do you call the authorities? Should you hire a lawyer? If you wait too long to decide, you could lose out on your rights and potential compensation. Below, we discuss a few factors that should weigh into whether you'll want to hire a lawyer. Call the veteran San Francisco motorcycle accident attorney William E. Weiss if you've been hurt in a crash in the Bay Area.
Someone Else Was Involved in the Accident
Not every motorcycle accident merits legal action. If you were in an accident on your own, with no one else involved, and the accident was clearly your fault, you can likely handle the matter yourself. If, for example, you lost control and hit a tree while riding, you can report the accident to your own insurance company and handle things from there.
If someone else was involved in the accident, however, and they might be at fault, then you would benefit from a motorcycle accident lawyer. If an auto driver, a truck driver, or another biker hit you on your motorcycle, you could have a claim for damages. You might even have a claim if a pedestrian recklessly darted out into the middle of the road and forced you into a crash. A personal injury lawyer will be better equipped to handle the necessary legal procedures of your claim, including identifying and collecting the relevant evidence, proving the other driver's culpability, and proving the extent of your damages.
You Were Hurt in the Accident
If you were nudged by a passenger car driver while on your bike, but you suffered no personal injury and minimum property damage, you might not need to bring lawyers into the mix. If there was no injury or property damage at all, you likely do not need to even report the incident to the insurance companies.
If, however, you suffered an injury in the accident and someone else may be to blame, you should hire an attorney. Your lawyer can build your case and maximize your damages. You'll get advice on how to avoid undermining your own liability or limiting the damages you may be able to collect, and your lawyer will know how best to strengthen your case and prove your legal damages. Injured accident victims recover more compensation when they work with a lawyer.
Your Motorcycle Malfunctioned
Even if no one else was involved in your motorcycle crash, someone else might still be to blame. If your brakes gave out, your engine stalled, or your steering veered out of control, your accident may have resulted from a defect with your motorcycle. Motorcycle manufacturers can be held liable when they sell defective products and those defects lead to an accident or injury.
Proving a defective product claim is significantly more complex and involved than a typical personal injury matter; it's unlikely you can secure a fair settlement simply by reporting the incident to the manufacturer and demanding compensation. Attorney William E. Weiss will conduct an investigation of your accident, including possible manufacturing defects, and determine whether the bike manufacturer can be held liable for your injuries. He'll build your case and work with experts as necessary to ensure that you get the compensation you are owed for the harm you suffered.
The Insurance Company Denies Your Claim
If you file a claim with your insurance or another driver's insurance company and your claim is denied, call a motorcycle accident attorney immediately. Motorcycle accident lawyer, William E. Weiss, can evaluate whether your insurer had proper grounds to deny your claim or whether, instead, you deserve compensation.
If you have been injured in a motorcycle crash or if your rights as a motorcycle rider have been violated in San Francisco or surrounding areas, contact William E. Weiss for a free consultation at 415-362-6765 ext. 157 or preferably my cell at 415-235-7060. You can also email me at william.weiss@gmail.com.