Suzuki Recalling Over 2,000 Motorcycles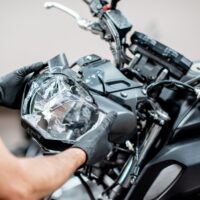 Suzuki Motor of America just issued a recall applying to two thousand GSX motorcycles registered across the United States due to a headlight issue. To learn about the safety issue and the recall, continue reading below. Reach out to a knowledgeable San Francisco motorcycle accident attorney if you've been hurt in a crash in the Bay Area.
Suzuki Model Sold With Faulty Headlights
One of the most essential parts of staying safe on a motorcycle is ensuring that the bike is noticed by other drivers on the road. Most modern motorcycles run with their headlights on, even during the daytime, to ensure maximum visibility. Lack of a working headlight can create a severe safety issue for motorcycle riders, making them harder to notice by the drivers in other vehicles. For that reason, headlight defects should not be taken lightly, especially when they are present in motorcycles aimed towards beginners, like the Suzuki GSX-250R.
Suzuki just issued a recall for the 2018 GSX-250R based on problems with the headlight. The defect notice indicates that the headlight's bulb filament presents signs of premature breakage. If the bulb filament breaks, the bike's headlight would shut off and become inoperable. Sudden loss of a headlight could prevent the biker from being able to see on the road and be seen by other vehicles. In extreme cases, this could lead to a catastrophic accident.
According to documents released by the National Highway Traffic Safety Administration (NHTSA), a total of 2,040 small GSX bikes registered across the country are affected by the recall. Suzuki is still in the process of determining a fix for the headlight defect. Owners of the model should have received or soon be receiving a notice from Suzuki about the defect. Bikers who experience the defect and lose the high or low beam while riding can hopefully rely on the remaining high or low beam function until they can get safely off the road. Suzuki urges owners of the GSX-250R not to operate their vehicle at night until the issue is fixed. If a headlight goes out, the owner should take the bike to a dealership to get a repair. The replacement should be free of charge, even if the specific part is past warranty.
Anyone who is injured as a result of the defect, whether they were riding on the motorcycle or were in another vehicle caught up in a crash with a GSX-250R, may have a claim for damages against the bike manufacturer.
If you have been injured due to a defective motorcycle or a negligent driver in San Francisco, contact William E. Weiss for a free consultation at 415-362-6765, ext. 157 or preferably my cell at 415-235-7060. You can email me at william.weiss@gmail.com.