Number of Injured Motorcyclists in California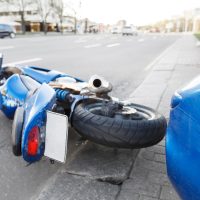 Riding a motorcycle is a cost-effective, environmentally friendly, and fun alternative to driving. California is home to the largest number of registered motorcyclists in the country, in large part because the state's favorable climate makes motorcycle riding both more entertaining and safer.
Riding a motorcycle does, however, come with additional risks compared to driving other motor vehicles. Motorcyclists are significantly more likely to suffer severe or fatal accidents. The roads are not designed with the needs of motorcyclists in mind, and auto drivers often fail to pay sufficient attention while on the road to notice smaller vehicles and others around them. Riding a motorcycle takes more skill, precision, and care than driving the typical car. When bikers are involved in a crash, they are much less protected than auto drivers, and more directly exposed to impacts and other hazards. Continue reading for a discussion of motorcycle accident statistics in California. Call the dedicated San Francisco motorcycle accident attorney William E. Weiss if you've been hurt in a crash in the Bay Area.
Most Motorcycle Crashes Result in Injury or Death
There are tens of thousands of non-injury car crashes every year. Auto drivers can crash into a wall, a parked car, or one another without suffering injury, so long as the crash happens at low speeds (and they're lucky). Motorcycle accidents, however, are unlikely to occur without injury. Bikers are directly exposed to the impact and other hazards, even if they're wearing a helmet, leathers, and other safety gear. According to data from the California Highway Patrol, as many as 88% of all motorcycle accidents lead to injury or death.
Thousands of Motorcyclists Injured in California Each Year
As discussed, when motorcycle accidents happen, people get hurt. Every year more than 10,000 motorcyclists are injured across the state. In 2013, for example, 11,644 people were injured in motorcycle accidents statewide.
Hundreds of People Are Injured in Motorcycle Crashes in San Francisco Alone
According to traffic safety experts, metropolitan areas like Los Angeles and San Francisco are significantly more dangerous for bikers than rural areas. California's Office of Traffic Safety (OTS) reports that San Francisco is consistently one of the most, if not the most, dangerous cities for bikers in California. In 2016, 566 motorcyclists were injured or killed in accidents in the Golden City.
Over 500 Motorcycle Deaths in California Each Year
Due to population size and other factors, California is one of the most deadly states for motorcycle riders in absolute numbers. In the year 2020, there were 539 motorcycle accident fatalities in the State of California. California was second only to Florida with 600 fatalities. Nationally, there were 5,579 motorcycle accident fatalities that year, meaning nearly 10 percent of all motorcycle accident deaths occurred on California roads.
California consistently sees more than 500 motorcycle accident fatalities most years. There were 576 motorcycle accident deaths in 2016, 578 in 2017, and 523 in 2018, although the number dropped to 491 in 2019.
If you have been injured in a motorcycle crash or if your rights as a motorcycle rider have been infringed in San Francisco or surrounding areas, contact William E. Weiss for a free consultation at 415-362-6765 ext. 157 or preferably my cell at 415-235-7060. You can also email me at william.weiss@gmail.com.