NHTSA Campaign Urges Drivers to "Share the Road" with Motorcycles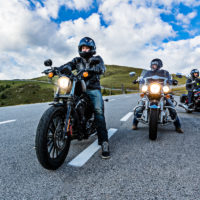 The month of May has been designated as Motorcycle Safety Awareness Month, and as we wind up May and head into summer, the National Highway Traffic Safety Administration (NHTSA) reminds all motorists to be extra alert for the presence of motorcycles and to safely "share the road" with motorcycles. Motorcyclists, for their part, are reminded to take steps to make themselves visible to other motorists.
NHTSA, in conjunction with Traffic Safety Marketing, has compiled a webpage of materials for its Share the Road motorcycle safety campaign. These materials were developed to be shared and include a sample press release, letter to the editor and talking points with tips for drivers and riders to raise awareness about motorcycle collisions and the thousands of deaths that occur every year. Other downloadable materials include Share the Road logos and over 20 years' worth of fact sheets on motorcycle traffic safety, helmet use, motor vehicle and motorcycle crash injuries and fatalities, and more.
According to information in the campaign materials, motorcycle deaths have increased nearly every year in the past 15 years. 2012 saw nearly 5,000 motorcyclists die on America's roads. This figure accounts for 15% of all highway deaths, even though motorcycles make up only about 3% of all vehicles on the road.
Hopefully Motorcycle Safety Awareness Month will help reduce motorcycle collisions in May and all year long, but it will take a concerted effort from all of us on the road. Drivers: be aware of the likelihood of motorcycles on the road; signal all your lane changes and turns; and check your mirrors and blind spots before making a lane change or turn. Riders: drive safely according to applicable traffic laws; use reflective gear and clothing to increase your visibility; and make sure you wear a DOT-compliant helmet. Motorists and motorcyclists alike can also help reduce accidents by taking care not to drive or ride when distracted or under the influence of alcohol or drugs.
"Motorcycle Safety" is Often a Pretext for Biker Abuse by Law Enforcement
Certainly anyone who rides a motorcycle knows about the dangers other drivers can pose to them. Every week I hear comments about how someone was cut off or almost got killed when someone turned left in front of them or changed lanes right into their path of travel. No one riding a motorcycle will argue that other drivers should not be aware of them and make efforts to be careful sharing the road.
One twist over motorcycle safety that affects motorcycle clubs is that authorities use the safety issue to gain information about them and to hassle them. For example, in California it is illegal for the police to conduct motorcycle only safety check points. (California Vehicle Code § 2814.1 (d)). So-called drunk driving check points are all right so long as they are not motorcycle only check points. The authorities thus will stop a car or two to justify pulling motorcycles over. Club members then get peppered with questions about their club, their patch, their tattoos, membership in the club, location of the clubhouse location etc. The police ask to take their pictures and pictures of their tattoos. In other words, it comes across like a covert gang task force operation. To the police anyone in a club with a three piece patch is a member of an "OMG" (official police lingo for outlaw motorcycle gang). It doesn't make any difference who the person is, if he or she belongs to a club considered to be an "OMG" they have a much greater chance of getting stopped while someone else on bike (especially one that is not a Harley-Davidson) is less likely to be stopped.
There are other efforts to single out club members based on "motorcycle safety" such as recent proposed legislation in California to make every motorcycle rider wear a fluorescent green vest to make them more visible to other drivers. Naturally, anyone wearing a cut will have it covered up by the vest. So many people raised hell that the legislation stalled and was not voted into law.