National Council of Clubs Fights Back against Discriminatory Policy & Wins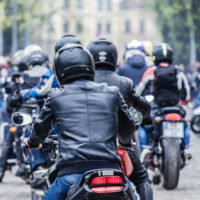 A recent story out of Colorado's Royal Gorge Bridge & Park, one of the most popular destinations in the country for seasoned riders, provides a source of encouragement that motivated individuals can fight back against unfair motorcycle club discrimination.
Public actors, but not private businesses, must uphold constitutional rights
As we have documented here on the blog, members of motorcycle clubs often face harassment and discrimination due to their affiliation with what are often charitable and peaceful communities of like-minded riders. When that discrimination comes from police officers or other government officials, civil rights lawyers have the tools to fight back against this discrimination in the form of lawsuits based on violations of riders' constitutional right to free speech. However, when private entities commit this discrimination, it can be more difficult to fight back through legal channels.
Over-broad policies draw attention of motorcycle rights groups
In response, groups dedicated to fighting for the rights of riders have begun to get creative in how they fight back against discrimination. Recently, the management of the Royal Gorge Bridge & Park located near Cañon City, Colorado enacted a policy banning anyone wearing a motorcycle club-related patch or club colors. The park, with its 1,260-foot-long wood-planked bridge, has become a popular destination for serious bikers, and news of the ban on patches and colors hit the motorcycle club community hard. The park is itself not a government-run entity, and as such has no obligation to protect the free speech rights of its visitors.
When the National Council of Clubs (NCOC), a group formed to defend motorcyclist rights, heard about the policy, they knew they had to take action to fight the overly-broad and discriminatory policy. The NCOC's legal team learned that, while the park isn't government-owned, the owners leased the land on which it sat from the government. As a result, the operators of the park became responsible for providing civil rights protections to visitors. NCOC sent a complaint that laid out the legal reasons why the park could not discriminate in this way, threatening the operators with a lawsuit for violation of club members' civil rights. Shortly thereafter, management responded to NCOC by letting them know that they had removed all signs barring visitors from wearing motorcycle club colors and patches on park premises. The story is a great reminder of the power of riders and club members to fight back against unfair discrimination and limitations on free speech.
If you have suffered from discrimination as the result of your status as a club member, or have been involved in a motorcycle accident in the Bay Area, contact San Francisco motorcycle rights attorney William Weiss for a consultation, at 415-362-6765.