Motorcyclist Killed in Oakland Hit-and-Run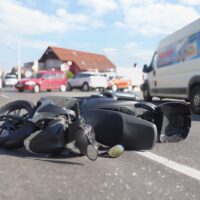 Hit-and-run accidents continue to be a problem across the State of California. Drivers involved in accidents fear for their criminal or financial liability and flee the scene rather than stop, exchange information, and render aid where needed. Leaving the scene of an injury accident without stopping to help is both illegal and dangerous. Fleeing can delay aid to injured accident victims, leading to more serious injury or even death. Recently, a motorcyclist in Oakland was involved in a serious traffic crash with a driver who chose to flee the scene rather than stop and help. Continue reading for details about the accident, and call a seasoned San Francisco motorcycle accident attorney if you've been in a motorcycle accident or hit & run accident in the Bay Area.
Driver Crashes Into Motorcycle, Flees the Scene
A 33-year-old motorcyclist was killed on a recent Thursday night in East Oakland after colliding with two vehicles, one of which fled the scene. According to authorities, the accident happened at the intersection of 79th Avenue and International Boulevard around 10:11 p.m. The motorcycle rider was heading westbound on International Blvd. at a high speed when a white Pontiac Vibe SUV, heading south on 79th, stopped at a stop sign. The SUV then made a left turn onto International Blvd.
The motorcycle crashed into the Pontiac, which caused the rider to lose control and swerve into the eastbound lanes of traffic. The rider then collided with a Nissan Rogue and was thrown from his bike onto the pavement.
According to authorities, the driver of the Nissan remained on the scene and administered assistance to the motorcycle rider while waiting for police and first responders to arrive. The motorcyclist was taken to a nearby hospital where he was later pronounced dead.
The driver of the Pontiac, on the other hand, neglected to stay at the scene and wait for authorities. Instead, the driver fled the scene in their vehicle, leaving the others involved in the accident to fend for themselves.
California law requires drivers in a traffic accident involving bodily injury to stop and exchange identifying information with others involved. If the accident involved injury or death to someone other than the driver, the driver who flees the scene can be charged with a misdemeanor or felony hit-and-run. Felony hit-and-run, which applies when someone suffers serious injury or death and an involved driver flees the scene, is punishable by up to three years in state prison and a fine of up to $10,000.
California Leads the Country in Hit-and-Run Fatalities
Unfortunately, this accident is far from a unique situation. Hit-and-run accidents are alarmingly common across the country, and California holds the dubious distinction of being the nation's leader in fatal hit & run crashes. According to the AAA Foundation for Traffic Safety, there's roughly one hit-and-run accident per minute across the United States, although that includes fender-benders, collisions with parked cars, and other minor accidents. However, serious hit-and-runs are becoming more and more prevalent.
In 2016 alone, the National Highway Traffic Safety Administration (NHTSA) reported 2,049 deaths caused by hit-and-run crashes. California was responsible for 337 of those hit-and-run fatalities, representing a 60% uptick in annual hit-and-run fatalities since 2006. California tops the country in absolute numbers of hit-and-run fatalities, although on a per-capita basis California ranks seventh.
If you have been injured in a hit & run accident or otherwise by a negligent driver in San Francisco, contact William E. Weiss for a free consultation at 415-362-6765 ext. 157 or preferably my cell at 415-235-7060. You can email me at william.weiss@gmail.com.