Multiple Motorcycle Accidents Result in Lethal Injuries for Local Bay Area Riders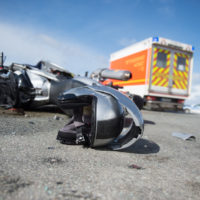 Two recent accidents resulted in fatal injuries for two local motorcycle riders in recent weeks. Learn more below about these tragic accidents, and contact a skilled and knowledgeable Bay Area motorcycle accident lawyer if you've been hurt in a crash.
Fatal accidents in San Jose, Oakland
An accident involving a motorcycle and semi-truck on the southbound I-280 led to fatal injuries for the motorcyclist. The accident happened just south of Race Street in San Jose. For reasons still unknown to investigators, the motorcyclist went down between two lanes of the freeway. A big rig hauling two trailers then ran over the motorcyclist. The rider was declared dead at the scene of the accident. In another recent incident, a rider and pickup truck collided near the intersection of 12th and Willow in Oakland. The rider was transported to the hospital but was declared dead upon arrival. The driver of the pickup was also hospitalized. Police are still investigating the crash but believe alcohol played a role in the incident.
Motorcycle riders often get a bad rap for being reckless or careless about safety, but keeping a motorcycle on the road requires far more attention and engagement from a rider than does driving a car. Riders have no choice but to remain focused on the road ahead and the cars around them if they want to stay alive. Even the world's most cautious rider can't prevent every crash, however.
Since driving a truck or car requires far less focus than riding a motorcycle, drivers may be completely careless or distracted while behind the wheel. Careless drivers may not check their blind spots before merging lanes, or they may not look carefully at the oncoming traffic before making a turn to determine how fast vehicles are traveling or notice whether a motorcycle is headed their way. It's no surprise that three of the most common causes of motorcycle injury accidents in the US are unsafe lane changes, unsafe turns, and distracted drivers—accidents caused by passenger vehicle drivers who don't even notice the motorcycles around them. Adding insult to injury is the fact that, when careless drivers hit a rider, it's usually the rider who ends up with far more devastating injuries. Riders who get hurt in these accidents have a right under California law to receive compensation when negligent driving caused their injuries, and an experienced motorcycle accident lawyer can help.
Help is Available after a Serious Motorcycle Accident in San Francisco
If you need professional and aggressive legal help filing a claim for damages after a California motorcycle accident, contact the San Francisco offices of motorcycle rights lawyer William E. Weiss for a free consultation at 415-362-6765.