MorfBoard Scooter Recall Due to Fall Hazard for Children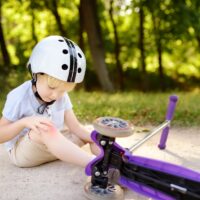 Jakks Pacific, the manufacturer of MorfBoard Skate & Scoot Combo scooters, recently issued a recall applying to over 160,000 scooters currently on the market. The recall was issued after Jakks Pacific discovered that a defect with their scooter handlebars creates a serious fall hazard. Numerous incidents were reported in connection with the defect, including at least one child being injured. Continue reading to learn about the defect and the recall. Talk to a dedicated San Francisco scooter accident personal injury attorney if you or your child has been hurt by a defective scooter or other consumer product in the Bay Area.
Scooter Handlebar Defect Creates Falling Hazard
On October 21, 2020, Jakks Pacific issued a recall for approximately 162,300 MorfBoard Skate & Scoot Combo scooters. According to a notice from the U.S. Consumer Product Safety Commission (CPSC), the "Y" handlebar joint on the scooter is liable to break, which poses a fall hazard to anyone riding the scooter and relying on the handlebar.
The MorfBoard Skate & Scoot Combo is a skateboard marketed to children for entertainment. The skateboard system has interchangeable parts that convert from a skateboard into a scooter. Specifically, the scooter is created by inserting the "Y" handlebar into the base board. The company is aware of 18 reports of incidents in which the "Y" joint broke, including at least one instance in which a child fell from the scooter and suffered an injury to the face.
The recall applies to MorfBoard Skate & Scoot Combo scooters with the "Y" handlebar accessory. The scooters were sold in a variety of colors, including cyan (blue), chartreuse (yellow), lava (red) and mint (green). The scooters were available for sale at Walmart, Target, Toys R Us, Meijer, and BJ's Wholesale Club stores nationwide, as well as online at Amazon.com and morfboard.com, from February 2018 through August 2020. Scooters with the following manufacturing date codes are included in the recall: 0049VE01, 0128VE01, 0238VE01, 0328VE01, 0598VE01, 0718VE01, 0878VE01, 1068VE01, 1168VE01, 1278VE01, 1458VE01, 1508VE01,1598VE01, 1858VE01, 2068VE01, 2328VE01, 2398VE01, 2478VE01, 2548VE01, 2508VE01, 2568VE01, 2958VE01, 3198VE01, 3258VE01, 3537VE01, 3628VE01.
If you purchased a defective scooter, take the scooter away from your children immediately and contact Jakks Pacific to receive a free replacement handlebar or a refund. If your child was injured due to the defective handlebar, you might have a claim for damages against the product manufacturer.
If you or your child has been injured due to a defective scooter or another consumer product in San Francisco, contact William E. Weiss for a free consultation at 415-362-6765 ext. 157 or preferably my cell at 415-235-7060. You can email me at william.weiss@gmail.com.