Moratorium on Motorcycle-Only Checkpoints Introduced in the Senate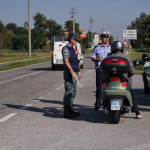 A bipartisan amendment to the Senate Transportation, Housing and Urban Development Appropriations bill was recently introduced that could put a stop – at least for a year – to discriminatory checkpoints that specifically target motorcycle riders.
Motorcycle-only checkpoints were introduced on a national scale in 2009, when the National Highway Traffic Safety Administration (NHTSA) started providing funds to the states to implement the NHTSA's Motorcycle Law Enforcement Demonstration Program. This program provided states with the funding to operate checkpoints to stop motorcyclists and make sure their bikes meet state standards for various legal requirements, from noise and tire condition to handlebar length.
The offered amendment would cut off funding for the program – which amendment sponsors refer to as discriminatory – for one year. While such checkpoints would not be expressly prohibited under the law, it seems unlikely that most states would continue to operate the program without federal funding.
As the Senate press release points out, available evidence suggests that motorcycle checkpoints are not effective at reducing motorcycle injuries or fatalities, and even the NHTSA itself did not include motorcycle checkpoints in its 2013 Highway Safety Countermeasure Guide for State Highway Offices, underscoring the agency's own belief that the program was not effective at reducing motorcycle crash injuries or deaths.
The amendment was offered in Senate Bill S.2078, the Stop Motorcycle Checkpoint Funding Act. The bill was introduced on March 5th by Senator Jeanne Shaheen (D-NH), with co-sponsors including Ron Johnson (R-WI), Joe Manchin (D-WV), and Kelly Ayotte (R-NH). It is currently in the Committee on Commerce, Science, and Transportation, whose members include bill co-sponsors Johnson and Ayotte and California Senator Barbara Boxer.
If you have been unfairly discriminated at a checkpoint, contact The Law Offices of William E. Weiss for legal advice.