Mistakes to Avoid After a Motorcycle Accident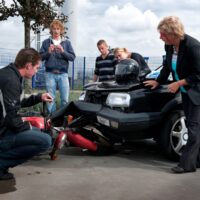 If you were hit by a car while riding your motorcycle, you have the right to recover damages for any injuries you sustained and for any damage to your bike. However, there are a number of pitfalls to avoid after a motorcycle crash. Doing or saying the wrong thing can undermine your case, limit your recovery, and potentially open you up to liability for the accident. Continue reading for tips on what not to do after a California motorcycle accident, and reach out to a dedicated San Francisco motorcycle accident attorney if you've been hurt in a motorcycle accident in the Bay Area.
Do Not Apologize or Otherwise Admit Fault
We've all heard the phrase "anything you say can and will be used against you in a court of law" in the context of a criminal arrest. You have the right to remain silent, and you should use it. The same principle applies with claims for civil liability after an injury: Anything you say has the potential to undermine your claims and reduce your recovery. After a crash, many of us will reflexively default to being polite, especially if another person involved was injured–"I'm so sorry, are you OK?" Unfortunately, saying you are sorry may be used to argue you are admitting that the crash was your fault.
As a general rule, you should limit your conversation with other parties involved in a crash to the necessities: exchanging information (insurance, driver's license number, contact info), checking for injuries, and making sure everyone is safe. After that, call the appropriate authorities and wait for them to arrive. After you leave the scene of the accident, there is virtually no reason to contact the at-fault driver directly. Your communications should be formal, directed at their insurance provider, ideally by and through your attorney.
Do Not Agree Not to Report the Accident
No one likes dealing with the police or with insurance companies. After an accident, a passenger car driver may ask you to handle the matter informally without getting the police or insurance providers involved. It can be tempting, especially if you think your injuries are minor. However, doing so severely limits your options for recovery. You may have more serious injuries than you realize at the moment. Injuries such as concussion, whiplash, or internal bleeding may not be readily apparent, but they can have painful, debilitating, and dangerous consequences. Reporting the accident and going through the proper channels ensures that you preserve your right to recover damages and that you are not left alone footing a massive medical bill down the line.
Do Not Delay Medical Treatment
If you were hit by a car while riding your motorcycle, chances are that you have some sort of injury. For the same reasons discussed above, you should see a doctor as soon as possible after your crash. You may have latent injuries you have yet to see or feel. Moreover, if you wait too long to get a diagnosed injury, a defense lawyer may try to argue that you sustained your injuries in some other event after the accident. To protect your health and your finances, see a doctor as soon as you can after an accident, even if you do not think you are seriously hurt.
Avoid Social Media
As an extension of some of the other mistakes to avoid after a motorcycle accident, it is generally wise to avoid posting about your accident or injuries on social media. After an accident, people often want to ease the fears of family and friends by posting that they are "fine," that they are "recovering well," or that the accident was "no big deal." Any such comments will be used as evidence by the defense attorney to argue that your injuries are not severe. Any comments you make that appear to admit fault (e.g., "I can't believe I crashed my bike") will likewise undermine your case.
Even posting about your daily activities while pursuing your personal injury damages can hurt your case. If the defense lawyer finds pictures of you playing tennis or even just in great spirits after your accident, they may use that to claim you are overstating the severity of your injury. Limit social media usage after a crash, and avoid saying anything about your accident or injuries other than the bare minimum. If you want to update family and friends about your condition, talk to your attorney first about what you can say without hurting your case.
As a general rule, you should not discuss the accident with anyone other than your lawyer, whether in person or on social media. The same principle extends to your own insurance provider. While you should report the bare facts of the accident, talk to your lawyer before speaking with a representative and providing a written or recorded statement. Saying the wrong thing can limit your recovery.
If you've been injured while riding a motorcycle, get help collecting the damages you are owed by contacting the effective and trial-ready Bay Area motorcycle accident lawyer William E. Weiss for a free consultation at 415-362-6765.