Members of Sonora Police Department Caught Taking Photos of Bike License Plates for "Research"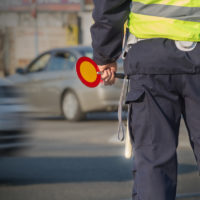 A recent incident in Tuolumne County provides a perfect illustration of the type of discriminatory behavior that bikers face at the hands of law enforcement on a regular basis. The incident is all the more frustrating considering that it comes in the wake of the state legislature shelving a bill that would have made it illegal for law enforcement to practice motorcyclist profiling. Read on to learn about the incident, and contact a dedicated motorcycle rights lawyer if you've been the victim of discriminatory treatment by law enforcement.
Cop caught on video taking photos of license plates of alleged "motorcycle gang"
The recent incident occurred earlier this spring. Victims of the police targeting had parked their bikes together along a street in Sonora, California. In a video posted to YouTube taken by one of the targeted bikers, the viewer can see a police officer taking photos with his phone of the bikes' license plates. A voice behind the camera is heard to say, "we get this kind of hassle from Sonora PD all the time."
The video gained substantial attention online, accruing thousands of views. Many viewers of the video were inspired to contact the Sonora Police Department to voice their disapproval of the police officer's tactics as displayed in the video, and others left comments on the police department's various social media pages. The Sonora Police Department eventually released a statement in response, stating:
The Police Sergeant in the video was simply engaging in intelligence gathering on a public street. These actions do not fall under the category of profiling as it is defined in California and there were no detentions made during this contact. We want to remind everyone that just because a video has gone viral and/or has received a large number of views, does not necessarily mean there is any substance to the allegations behind it.
Bill that would ban motorcycle profiling fails to pass
The recent effort by certain California lawmakers to formally outlaw profiling against motorcyclists was thwarted, as past efforts have been. Assembly Bill 2972, which would have provided grounds for discriminated-against motorcyclists to file suit after being treated unfairly by law enforcement, was not passed by the assembly. While the bill was granted reconsideration, the bill's author moved it to the inactive file, although it can still be returned to active consideration in the future. In fact, the people who worked so hard on getting the bill this far have vowed to pursue it. They have the genesis of a great bill and have started to develop a great organization to push it forward. Getting legislation passed takes perseverance and the long view.
If you've been the victim of unfair treatment by law enforcement as a motorcyclist or a member of a motorcycle club, find out if you might have a claim based on this discriminatory treatment by contacting the aggressive and knowledgeable Bay Area motorcycle discrimination attorney William E. Weiss for a free consultation at 415-362-6765.