Maryland Becomes Second State to Support Motorcycle Anti-Profiling Legislation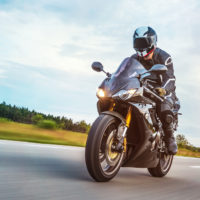 In a step forward for biker rights, Maryland has recently created a law addressing motorcycle profiling among law enforcement personnel. Bill no. HB 785 on motorcycle profiling training has been approved by both houses of the Maryland state legislature and has been sent to the desk of Governor Larry Hogan for signing. Gov. Hogan has previously expressed his support for motorcyclist rights and is anticipated to sign the bill in the coming weeks as the legislative session winds down. The bill had 62 sponsors and received unanimous support across party lines. Assuming the bill is signed, the law will take effect on October 1, 2016.
With the enactment of this law, Maryland will become the second state in the nation to have an anti-profiling law on the books, with the other state being Washington. The law in Maryland is designed to change police attitudes toward motorcyclists and to implement training programs directed at eliminating motorcycle profiling.
Maryland's public safety law will now include the following definition of motorcycle profiling: "The arbitrary use of the fact that an individual rides a motorcycle or wears motorcycle-related clothing or paraphernalia as a factor in deciding to stop, question, take enforcement action, arrest, or search the individual or vehicle." Written policies distributed to police officers that describes other forms of illegal profiling will now be required to include policies condemning motorcycle profiling. Additionally, any police training or continuing officer training held at the state, county, or municipal level should now include training that specifically deters motorcycle profiling. Existing anti-profiling training instructs officers against using a driver's race or ethnicity as the predominant reason to stop a vehicle.
If you are a Bay Area biker in need of legal assistance after you've been injured in an accident, or if you have had your civil rights violated through illegal or discriminatory treatment by a police officer, enlist the help of a knowledgeable motorcycle rights attorney who has first-hand experience with the unfair treatment bikers can receive while out on the road. Contact San Francisco personal injury and motorcycle rights attorney William E. Weiss for a free consultation at 415-362-6765.