Long Beach Police Institute Series of Crackdowns Targeted at Motorcyclists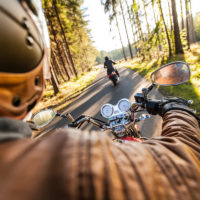 In the second time this year, Long Beach police in southern California pledged to devote an entire weekend to specifically targeting motorcyclists. As part of its "Motorcycle Safety Enforcement Operation," the Long Beach police sends out extra police officers to locations frequented by motorcycle enthusiasts with the intent of ticketing motorcyclists and specifically targeting them for sobriety checks.
The crackdown, scheduled for August 7-9, 2015 is the second such program by the Long Beach Police in several months. The Long Beach Police previously targeted motorcyclists during the last weekend of May 2015. In one day, Long Beach police ticketed 35 motorcyclists for unsafe driving or for not wearing an approved helmet, ticketed four motorcyclists for not having the proper license, and conducted sobriety checks on motorcyclists.
Official Police Crackdowns on Motorcyclists in California Increasing
Long Beach's crackdown on motorcyclists is part of an increasing trend in California. In the past several years, Napa, Whittier, Murrieta, Fairfield, Rancho Cordova, and other towns have all employed "Motorcycle Safety Enforcement Operations" in order to devote more community resources and police power to specifically targeting motorcyclists. Notably, the press releases announcing such operations use the same language and statistics to justify the police operations, indicating a state-wide effort to devote increased police attention to targeting motorcyclists.
Are these operations legal? California Vehicle Code 2814.1 authorizes law enforcement to conduct vehicle inspection checkpoints to look for violations of emissions and exhaust laws, but subsection (d) of this law clearly states: "State and local law enforcement agencies shall not conduct motorcycle only checkpoints." Section 2814.2 authorizes sobriety checkpoint inspections for "motor vehicles." This section does not distinguish between cars and motorcycles, but the California Supreme Court has held that sobriety checkpoints must pull over vehicles according to some pre-established pattern (such as every third vehicle) in order to avoid claims of discrimination or profiling. When law enforcement agencies conduct their Motorcycle Safety Enforcement Operations, they claim to include drivers too and pull over a handful of cars or trucks, but this seems to be just a token gesture to appear to comply with the law. Clearly motorcycles are targeted by these programs, and the legal status of these programs are suspect to say the least.
Anti-Motorcycle Profiling Rule Stalled in California Legislature
This type of police behavior of targeting motorcyclists is the type of government conduct that a bill introduced in the California legislature in February 2015 was intended to prevent. That bill, AB 334, introduced with bipartisan support by Assemblyman Ken Cooley of Rancho Cordova, would have required that police departments ensure that officers be trained to avoid motorcycle profiling and that policies be revised and created if need be to prevent motorcycle profiling. The bill defined motorcycle profiling as "using the fact that a person rides a motorcycle or wears motorcycle paraphernalia as a factor, without any individualized suspicion of the particular person, in deciding to stop and question, take enforcement action, arrest, or search a person or vehicle, with or without legal basis under the California Constitution or the United States Constitution."
AB 334 was shelved earlier this year, however, as it did not find the support it needed to go further in the legislative process. It is unclear how AB 334, if enacted into law, would specifically have affected the ability of police departments to undertake police operations specifically intended to stop motorcyclists for the purposes of ticketing them and conducting sobriety checks, but such operations appear to be the type of motorcyclist profiling conduct by police departments that the bill sought to curtail.
If you are someone you know has been the target of unfair motorcyclist profiling by the police, attorney William Weiss can help. Call the Law Offices of William E. Weiss at 415-362-6765 to schedule a free consultation now.