Lawsuits Based on Drunk Driving Accidents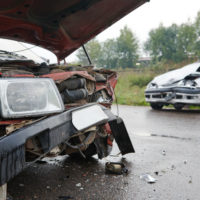 There's little else more dangerous to a motorcycle rider than a drunken driver. Drunk drivers are unpredictable, reckless, and can cause catastrophic injuries in a crash. Not only can drunk drivers face serious criminal penalties after causing a crash, they're also liable in a civil action for money damages to their victims. Victims may have a strong and fairly straightforward claim for money damages from that driver based on the legal concept of "negligence per se" for drivers who are over the legal blood alcohol limit. Even when the driver is not legally "drunk," motorcycle crash victims may still be able to use evidence of impairment in a claim for money damages. Read on to learn about how to recover against a drunk driver who injured you or a loved one in a motorcycle crash.
As most California drivers know, it is illegal to get behind the wheel with a blood alcohol content, or BAC, of .08% or greater. This amount is .05% for drivers under the age of 21, and even lower for commercial drivers, at .04%. While nothing can eliminate the trauma of being involved in a crash with a drunk driver, victims have the right to be compensated for this trauma through a suit for money damages. In addition to recovering for your medical bills, pain and suffering, and lost income, people who drink knowing they will drive can also be sued for punitive damages, according to the Supreme Court of California in Taylor v. Superior Court. Importantly, punitive damages usually cannot be discharged in bankruptcy and are not covered by insurance for public policy reasons. The prospect of punitive damages puts additional pressure on the driver's insurance company to settle for a greater amount; even though the insurance company technically cannot insure for punitive damages, they still have an obligation to their insured to protect them from punitive damages.
When proving a claim for damages against a driver who was found to have a BAC above the legal limit, the victim plaintiff may rely on the doctrine of "negligence per se" to strengthen their claim against the defendant. Under this concept, if a defendant can be shown to have violated a law while committing the act that resulted in the victim's lawsuit, then the court will presume that the defendant is liable for the victim's injuries. In other words, a driver who caused a crash and was convicted for a DUI stemming from that accident will be presumed negligent in causing the victim's injuries, and the victim doesn't have to present other evidence that the drunk driver was at fault for the crash.
A conviction for drunken driving is not the only way that an accident victim can use evidence of intoxication to prove their claim for damages. If the at-fault driver showed signs of impairment before a crash, such as weaving through lanes of traffic or driving at a reckless speed, or if the plaintiff can present evidence that the driver had been drinking prior to the crash, then this is also valuable support in a trial for money damages, even without a DUI conviction.
If you have been injured in a motorcycle crash in the Bay Area, find out if you have a claim for your medical expenses, lost earnings, or pain and suffering by contacting the seasoned and aggressive San Francisco motorcycle accident attorney William E. Weiss for a consultation, at 415-362-6765.