Can I Get a Ticket for Lane-Splitting in California?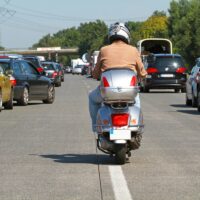 We have talked about it before, but I hear the question often enough that it is worth revisiting. Many bikers are still unclear on the rules surrounding lane-splitting or white-lining in California. Lane-splitting is prohibited in many states, but what about in California? Read on to learn more about how California handles lane-splitting, and if you or someone you know has had their rights violated by an overzealous police officer, call a dedicated San Francisco biker civil rights attorney.
Lane-splitting is legal in California
First thing's first: Lane splitting is legal in California. Effective January 1, 2017, California Vehicle Code Section 21658.1 defines lane-splitting as "driving a motorcycle . . . between rows of stopped or moving vehicles in the same lane, including on both divided and undivided streets, roads, or highways." The law does not prohibit lane-splitting, but it gives the California Highway Patrol (CHP) the authority to issue guidelines concerning the proper and safe execution of lane-splitting.
The DMV did previously issue a series of "guidelines" for bikers to follow when lane-splitting. Those guidelines included cute language saying, for example, that "California law does not allow or prohibit" lane-splitting. Those guidelines were taken down after a legal battle. The CHP has also released a series of "tips" for lane-splitting safely. These tips are not legally binding, but they do provide guidance on how bikers can lane-split without posing a danger.
Lane-splitting is not prohibited in California; it is, therefore, legal, so long as it is otherwise performed safely. If you are lane-splitting, you should not be stopped, harassed, or ticketed by a CHP officer or other police officer. Reckless driving in any form is, of course, prohibited, regardless of whether it is performed while lane-splitting or in another manner, but lane-splitting is not inherently reckless. To avoid trouble with the police, and to make sure you and everyone else on the road are safe, all bikers should take account of their surroundings, the weather, the flow of traffic, and other hazards on the road whenever lane-splitting.
Avoid riding on the shoulder
It is important to note that, while riding the white line is perfectly legal, riding on the shoulder is not. The CHP has explicitly stated that riding on the shoulder does not qualify as lane-splitting. Doing so can expose bikers to unnecessary liability and run-ins with the police.
Car drivers must take care for biker safety
Car drivers must also be aware that lane-splitting is legal. They must give motorcyclists ample room to pass if they see a rider trying to lane-split. Auto drivers can be held liable if they obstruct a biker's flow of motion by opening a door, making a turn without signaling, or changing lanes suddenly and without signaling. The California Vehicle Code makes it illegal for cars to interfere with the path of other vehicles by, for example, slowing down or opening a door unnecessarily. If you are injured while lane-splitting because of the actions of a negligent driver, you might have a claim for damages.
If you have been profiled, harassed or had your rights violated because of your status as a biker or member of a motorcycle club, contact William E. Weiss for a free consultation at 415-362-6765 ext. 157 or preferably my cell at 415-235-7060. You can email me at william.weiss@gmail.com.