Insurance Liens and Personal Injury Claims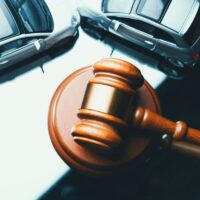 If you are injured by a negligent driver, you have the right to seek compensation for the harm you have suffered. You have the right to bring a personal injury claim against the at-fault driver, and you can use the proceeds of your claims to cover your lost wages, medical expenses, and as compensation for other forms of harm such as pain and suffering. However, it is important to keep in mind that there may be other interested parties involved. If your medical costs are covered by another party, such as your health insurance provider, then the insurer may have a right to take a cut of your personal injury settlement or judgment. Continue reading to learn about personal injury liens and how your personal injury award could be split after an accident. Call a knowledgeable San Francisco car accident and personal injury attorney if you've been hurt by someone else's negligence in the Bay Area.
What is a Lien?
In general, a lien is a court order or made via contract (your insurance policy is a contract with language covering third party liens) granting a security interest over an asset to ensure payment of a debt owed to a third party. A lien can be placed on a piece of tangible property, such as a mortgage on a house, but a lien can also be placed on a monetary interest.
In the context of a personal injury claim, a lien can manifest as a legal right to a portion of the personal injury award, whether it is a jury verdict or a settlement. A party seeking to establish a lien can file a lawsuit seeking to put a lien on a personal injury award or merely file a notice of lien with the court on your case, forcing you to deal with it. The insurance company for the defendant could withhold payment until the lien is resolved. At best it delays the ultimate payment of a judgment or settlement.
Who Can Assert a Lien on a Personal Injury Settlement?
In the context of a personal injury claim, any party who pays your medical bills likely has the ability to assert a lien against your personal injury award. Most insurance policies, such as health insurance policies, have boilerplate "third-party liability" provisions. These third-party liability provisions essentially state that the insurance provider has a right to repayment of policy benefits paid out should a third party be held liable for the injuries leading to the insurance coverage. The contracts provide that the insurer can install a lien against the personal injury award and use that award to repay them for the benefits they issued. Insurance providers may also have the rights of "subrogation," meaning that they can sue a third party directly (i.e., the person who caused the policyholder's injury) to recover their costs.
Also, healthcare providers may sometimes assert a lien over a personal injury award for the cost of medical bills. These are more likely to come into play when the injured party does not have health insurance but requires medical treatment while the personal injury case is ongoing. The healthcare provider will seek to obtain payment for medical bills with a lien over the settlement or judgment.
As mentioned, health insurance companies always embed third-party liability provisions within policies in order to recover for benefits paid to accident victims. Automobile insurance policies often have similar language for situations in which the victim's auto insurance is used to cover medical costs until the at-fault party is deemed liable for the accident.
The government could also be entitled to a cut of your personal injury award. If the state has paid for medical coverage under Medicaid, Medicare, or Medi-Cal, the state and/or federal government is guaranteed repayment using the proceeds of a personal injury case should a third-party be held liable. This lien right is established by law and must be complied with or the state or federal government can sue to recover.
Most liens can be negotiated so that you can reduce the amount of payment. Many policies, such as med pay on your car insurance or even many health care insurance policies are subject to legal doctrines ( the common fund doctrine is one example) that give you an equitable right to charge the insurance company. For example, if your attorney's fee is 33 1/3% you may be able to get a one-third reduction of lien plus more for a share of the costs. The idea is that an insurance company cannot sit back passively while you hire an attorney to get the recovery and then help themselves to whatever they want. There are other theories and doctrines that can help reduce the liens. Also if the amount due is greater than or close to your recovery amount the carrier/lienholder cannot get more than 50% of your net regardless.
Finally, due to U.S. Supreme Court cases, certain health insurers don't have to negotiate at all because in their contract of insurance they state that they do not reduce for any of the legal doctrines you could normally rely on so your attorney has to apply different tactics to get a lien reduction. The policies that have this defense are almost always what are called ERISA qualified insurance plans. Without getting into all the explanations of what ERISA is (the Employee Retirement Income Security Act), suffice it to say your lawyer needs to know as soon as possible about it in order to deal with it. Union-based health plans pretty much are ERISA qualified health plans that are often ruthless in trying to collect. They say that the repayment goes back into the insurance fund so others can be covered. The VA also has statutory rights to collect payment for treatment rendered where you have a lawsuit to recover damages. So does Kaiser.
This brief discussion is in no way intended to be exhaustive, so if you have a case with big medical bills and severe injuries you should contact me. I can analyze what the lien rights might be, what the repayment situation is, and what your remedies might be. This directly affects your bottom line.
If you have been injured due to someone else's negligence in San Francisco, contact William E. Weiss for a free consultation at 415-362-6765 ext. 157 or preferably my cell at 415-235-7060. You can email me at william.weiss@gmail.com.