Having Full Coverage Motorcycle Insurance Doesn't Mean You're Fully Covered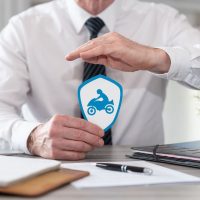 "Full coverage." Sounds great, doesn't it? What could give you more security and peace of mind when taking your bike out on the road than knowing you are "fully covered" in the event you get into an accident? But what exactly is "full coverage"? Chances are, it doesn't mean what you think it means. Read on for a discussion about full-coverage motorcycle insurance in California. If you've been injured in a crash in the Bay Area, reach out to attorney William Weiss for advice and assistance from a skilled and experienced San Francisco motorcycle accident lawyer.
So, What Is Full Coverage?
First of all, full coverage is not actually "a thing." You cannot purchase any policy from an insurance coverage that is called "full coverage" and covers all your insurance needs. Instead, being fully covered is generally understood to mean having liability insurance as well as physical (property) damage for your bike, typically in the form of collision and comprehensive coverage. In this sense, getting full coverage means you are purchasing several different kinds of insurance on your motorcycle policy.
Liability insurance covers your expenses if you are at fault in a crash; it pays the costs of property damage to other vehicles or property you damaged, as well as personal injury costs for others who were hit. Liability insurance will not cover any property damage to your bike or your person if you are injured. Liability insurance is required by law, however, so you don't have much of a choice but to carry it.
Collision insurance will pay for damage to your bike if you get into a crash that is your fault. Comprehensive insurance covers damage to your bike caused by other non-collision incidents, such as storm damage, theft or vandalism. Neither collision nor comprehensive provide any medical benefits coverage if you are injured in a crash, however.
Since "full coverage" is not a term of art in the insurance industry, you want to be clear about what specific types of coverage you are looking for when shopping for a policy that meets your needs, so that you can be sure you are comparing apples to apples and getting the coverage you want.
More About Liability Insurance
Whether you are driving a car or a motorcycle, California requires all drivers of motor vehicles to carry liability insurance. Technically, you could satisfy these requirements by putting $35,000 cash on deposit with the DMV, obtaining a certificate from the DMV showing you are self-insured, or obtaining a $35,000 surety bond. Most people, however, meet the legal requirement by purchasing an actual liability insurance policy.
California requires drivers to carry a minimum of 15/30/15 liability insurance. This coverage pays up to $15,000 for personal injury damages per person and up to $30,000 per accident, plus $15,000 for property damage per accident. This coverage is one of the lowest minimums in the country, yet California insurance is nevertheless some of the most expensive nationwide. Unfortunately for motorcycle riders, injuries in an accident can often exceed these minimums. If you've been hit by a negligent driver carrying only 15/30/15 liability insurance, the help of an experienced motorcycle accident lawyer might be necessary to ensure you get the compensation you need for the harm done to you.
To make matters worse, even though the law requires liability insurance, 16% of California drivers choose not to carry it, ranking the Golden State in the top ten of states with the highest rates of uninsured drivers. Uninsured motorist (UM) coverage can prove invaluable in these instances. UM insurance will pay your medical bills and property damage if you get hit by an uninsured driver and the accident is their fault. UM coverage is included in your liability insurance policy unless you reject it in writing. Although it costs extra, the additional charge is only a small part of your overall cost and is well worth it given the large number of uninsured drivers in California. And it's an important component of feeling "fully covered" when it comes to insuring you and your bike.
If you have been injured in a motorcycle crash or if your rights as a biker have been infringed in San Francisco or surrounding areas, contact William E. Weiss for a free consultation at 415-362-6765 ext. 157 or preferably my cell at 415-235-7060. You can also email me at william.weiss@gmail.com.