California Biker Unification Rally Hailed as a Success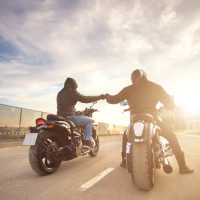 They came by the thousands from all over the state, through light drizzles and hard-driving rains they came, some in packs nearly 200 strong and several miles long. The event was a biker Unification Rally at the California state capitol building in Sacramento, held on October 25th. Speakers included Dave Hastings, Executive Director of ABATE of California, and many others. Representatives from motorcycle clubs across the state got up to speak. Jesse Lane performed Legend of the Biker, a song celebrating bikers and the history of the motorcycle rights movement. It was a day uniting all bikers and supporters under the common theme that Biker Rights are Civil Rights.
The rally was hosted by NorCal COC and sponsored by several organizations, including California ABATE.
Topics discussed at the rally included:
The classification of patch holders as gang members
Rider profiling by law enforcement
Potential legislation on lane splitting
Potential legislation on a requirement to wear reflective gear
A civil lawsuit against California and the California Highway Patrol (CHP) on illegal helmet tickets
National Highway Traffic Safety Administration (NHTSA) funding for motorcycle "safety" checkpoints which violate California law (AB1047) prohibiting Motorcycle-Only Checkpoints
If you are in need of an attorney with legal knowledge on bikers' rights, don't hesitate to contact a representative from the Law Offices of William E. Weiss today!