What are the Motorcycle Headlight Requirements In CA?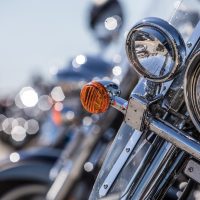 Motorcycle riders must keep in mind all of the same traffic rules that apply to passenger car drivers, plus additional rules and regulations specific to motorcycles. California law sets strict rules about the equipment that motorcycles must include in order to be road-ready. These requirements touch on mirrors, handlebar location, turn signals, as well as headlights. Read on below to learn about the motorcycle headlight requirements in California. Call the dedicated San Francisco motorcycle accident attorney William E. Weiss if you've been hurt in a crash in the Bay Area.
What Headlights Should Motorcycles Have Installed?
Pursuant to California Vehicle Code (CVC) section 25650, every motorcycle during darkness must be equipped with at least one and no more than two headlights. All motorcycles manufactured after January 1, 1978, must have one or two headlights that automatically turn on whenever the engine of the bike is started, and which remain on so long as the engine is running.
The headlights must be bright enough to reveal a person or vehicle at least 100 feet away when the motorcycle is operated under 25 mph, at least 200 feet away when operated at 25 to 35 mph, and at least 300 feet away when operated at speeds above 35 mph. If the bike has a multi-beam headlight, the upper beam should meet the minimum requirements described above while the lowermost beam has a lesser requirement.
Specific rules about coloring and brightness apply to additional motorcycle lights. Motorcycles may be equipped with a light that emits a diffused, non-glaring light of less than 0.05 candela per square inch, so long as: (a) if the lights are at the front of the vehicle, they are not colored red, and (b) the lights do not resemble, are not installed within 12 inches of, and do not interfere with the effectiveness of another required lamp, light, or reflector on the vehicle. Brighter lights must be white or yellow, rear side stop lights should be red, and rear turn signals may be yellow.
Motorcycles may also have fog lights installed to supplement headlights. Fog lamps must be mounted on the front of the bike between 12 inches and 40 inches high and should not project more than 25 feet.
When are Headlights Required?
As mentioned above, modern motorcycles (built in 1978 and later) must have lights installed that turn on and remain on the entire time the motorcycle engine is running. For all drivers, California's headlight law requires headlights to be turned on in the following situations:
When it's dark (including from 30 minutes after sunset to 30 minutes before sunrise)
When continuous use of the windshield wipers is needed (rain, snow, mist, hail, etc.)
When visibility is less than 1,000 feet due to inclement weather (fog, storms, etc.)
Passenger car drivers must keep their headlights turned on and functional under these conditions. Failing to do so can lead to administrative fines and penalties and can open riders and drivers up to civil liability should a car crash occur as a result.
Daytime Headlight Areas
Certain California roads have special requirements concerning headlights. While headlights are always required at night as well as during inclement weather such as rain or fog, safety officials identified some California roads as sufficiently dangerous to warrant requiring drivers to turn on headlights even during the daytime. For example, all vehicles on the 29-mile length of Highway 99, which runs between Chico and Red Bluff, California, must have their headlights on at all times.
Watch out for road signs indicating a daytime headlight zone on California highways to ensure you are complying with all appropriate regulations, and to limit your liability in the event of an accident. If you are struck by a driver who is not using their headlights during the proper time of day or on those especially dangerous roads, you might have a claim for damages.
If you have been injured in a motorcycle accident or if you have had your rights as a motorcycle rider infringed in San Francisco, contact William E. Weiss for a free consultation at 415-362-6765 ext. 157 or preferably my cell at 415-235-7060. You can email me at william.weiss@gmail.com.