Bay Area Motorcyclist Fatally Injured in Hit-and-Run Crash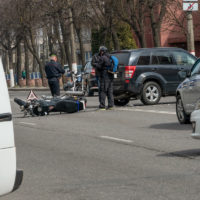 A young man local to the San Francisco Bay Area was recently struck and killed while out riding his motorcycle in Concord, California. Police are currently on the hunt for the truck that struck and killed the man. Learn more about the tragic fatal crash below, and contact a seasoned San Francisco motorcycle accident lawyer if you've been injured in a motorcycle crash in the Bay Area.
Collision on Concord Boulevard leads to fatal hit-and-run
The chain of events leading to the motorcyclist's death began in the early moments of Sunday, July 21. According to Concord police, the 28-year-old motorcyclist riding east on Concord Boulevard near the intersection with Lodato Way tried to pass a Toyota Prius that was also headed east. The two vehicles collided, and the motorcyclist was thrown from his bike. Several residents saw the initial accident and ran out to render aid to the motorcyclist, attempting to warn oncoming cars of the man's presence and slow traffic using flashlights. Sadly, these attempts did not prevent a dark-colored pickup truck from striking and killing the man.
The motorcyclist was declared dead at the scene of the accident. While the driver of the Prius remained at the scene of the accident, the pickup driver fled. Concord police have now obtained photos of the pickup truck that killed the man and are searching for witnesses to the crash or for people who may recognize the truck to come forward with more information.
Motorcyclists who fall victim to hit-and-run crashes often need skilled legal help to get full compensation
Motorcycle riders are in a vulnerable position when involved in a crash. When a rider is forced off their bike, they're at the mercy of other drivers to pay close attention to the road ahead to avoid serious injuries. When drivers flee the scene of a crash, it can be even more difficult for accident victims or their surviving families to get the compensation they need and deserve for the harm done. Motorcycle hit-and-run victims often need a seasoned motorcycle accident lawyer's help in investigating the circumstances surrounding a crash, locating and interviewing witnesses, attempting to locate the at-fault driver, and proving the victim's right to compensation.
If you've been the victim of a California motorcycle accident and need help obtaining the compensation you're owed for your injuries, contact the aggressive and effective Bay Area motorcycle injury lawyer William E. Weiss for a free consultation on your claim at 415-362-6765.